The Ghe-O Rescue rescue truck may be one on the most capable and awesome off-road vehicles on the planet. Made by the Romanian company Ghe-O Motors, this off road vehicle is built to access the most inaccessible places.
Rescue is the ideal solution for transportation, medical support and fire extinguish capabilities on all terrains and in all weather. With off road solutions borrowed from racing and with a close to competition philosophy, the performance version Rescue is in fact, despite their truck like look, a very capable all terrain solution rivaling with any small racing equipped sports car. We can add that, because of the bigger wheels and mass distribution, Rescue can outperform in most of situations two seats off road cars with the difference that it can do that with eleven people on board. We make this parallel between Rescue and road racing  just for a better understanding of the capabilities hidden under the general styling, in fact we can say that rescue have its own class. Read More

Technical specification for the rescue truck include a curb weight or 6400 lbs a heavy duty transmission, lockable axles and engine choices from the base 340 bhp to the high performance 500 bhp version. They also state that they can build the engine to be resistant to electromagnetic pulses, if the client needs that sort of thing! The company doesn't specify to many specifics, though just noting that anyone interested can contact them and that they will build it to spec.
As noted in this article "Romania has a car industry? No, but it does make the humongous Ghe-O Rescue truck" at digitaltrends.com this is a very large vehicle. So while it may have the technical specifications to go anywhere it's clearly not made for narrow streets in Europe.
Built in the former Soviet block, the Ghe-O Rescue is one of the craziest – and most awesome – things on four wheels.

At 17 feet long and nearly nine wide, this thing is a monster that can cross rivers, blast through snow, and generally just straight up curb stomp the worst Mother Nature has to offer. Despite being the rough dimensions of a cross-country freight train, the Rescue weighs in at just 6,400 pounds. Read more:
All told this machine took like it will be a useful off-road utility vehicle for those that need such a thing. Unlike other specialty vehicles, this will not be a play toy taken to the local mud bogging events (please someone prove me wrong and send video).
For now check out these videos of the Ghe-O Rescue in action, to include flotation devices so that even a lake or river does not stop this monster rescue machine.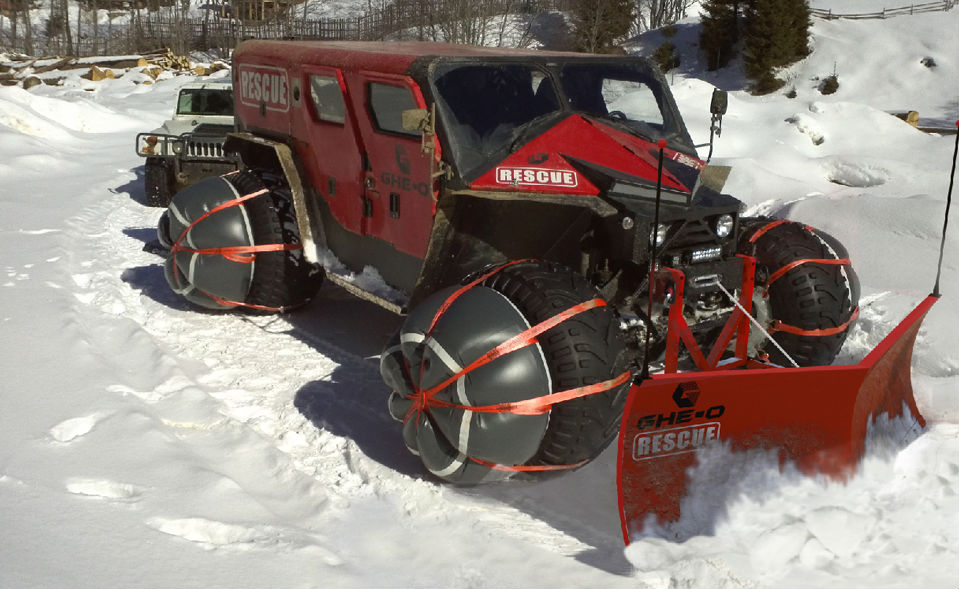 Check Out These Diesel Truck Deals!